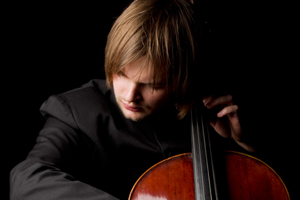 Wir freuen uns, die Karriere des außergewöhnlich talentierten, jungen litauischen Cellovirtuosen Gleb Pyšniak zu begleiten, der bereits große internationale Anerkennung beim Bergen Festival in Norwegen, dem Juilliard Chamber Fest in New York City oder beim "nonclassical club" im Rahmen der Classical: NEXT'14 in Wien erhalten hat.
Gleb hat sich neben der klassisch-romantischen Cellomusik auch als Interpret des zeitgenössischen Cellorepertoires einen Ruf erarbeitet und bereits mit dem namhaften britischen Komponisten Gabriel Prokofiev (Enkel von Sergei Prokofiev) sowie der österreichischen Komponistin Johanna Doderer (Release: "The Piano Trios" mit dem Vilos Trio, veröffentlicht 10/2014, Label: Capriccio) zusammengearbeitet.
Weitere Infos: www.glebpysniak.com
We are happy to support the career of the exceptionally talented, young Lithuanian cello virtuoso Gleb Pyšniak, who has already received great international acclaim for his performances at the Bergen Festival (Norway), the Juilliard ChamberFest (New York City), or the "non-classical club" at Classical:NEXT'14 in Vienna.
Gleb, besides classic-romantic cello music, has as well established his reputation as a performer of contemporary cello repertoire and has collaborated with well-known UK composer Gabriel Prokofiev (grandson of Sergei Prokofiev) or Austrian female composer Johanna Doderer (recording of "The Piano Trios" with Vilos Trio, released 10/2014, label: Capriccio).
Learn more: www.glebpysniak.com